Ad-Aware
Personal Security
Shop and bank safely online
Built upon our legendary anti-spyware and antivirus protection, Ad-Aware Personal Security provides a complete set of anti-phishing features and real-time web-filtering technology that safeguards your PC against phishing attacks and online scams, giving you the confidence you need to shop and bank online.

Try it Free!

Download a Trial Version of Ad-Aware Personal Security and try it risk-free for 30 days.

Product Manuals (PDF)

Renew/Upgrade

Click here if your copy of Ad-Aware Personal Security has expired or if you'd like to upgrade your current copy.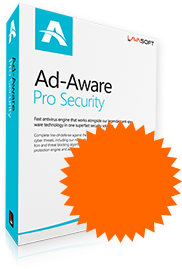 Only

more
Limited Time Offer
Upgrade to Ad-Aware
Pro Security
► Advanced Firewall
► Real-time email protection
► Safe Networking

Ad-Aware Pro Security
/