Performance Challenges - Ad-Aware Pro
- Lavasoft
Virus Bulletin independently tests anti-virus products every year, and those products that pass the tests are awarded the VB100. The test review covers a range of criteria, including detection rates, design and usability, and performance. In their August issue, Ad-Aware achieved one of the top results for malware detection. By focusing on core consumer needs, Ad-Aware provides advanced threat protection, and is significantly lighter and faster than our previous versions (and than many of our competitors.)
The charts below show the results of these Virus Bulletin tests.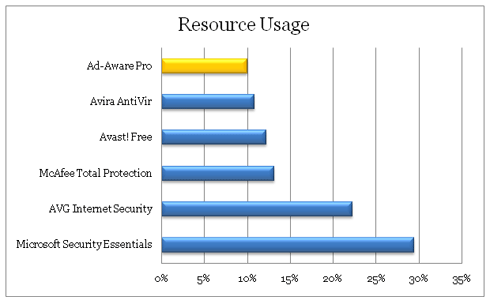 Ad-Aware Pro Internet Security is resource-efficient, while still providing advanced threat protection, as shown in the graphs below.
Ad-Aware successfully detected 100% of the viruses from Virus Bulletin's "WildList" collection without creating a single false positive, while also detecting nearly every one of the samples of trojans, worms, bots and polymorphic threats.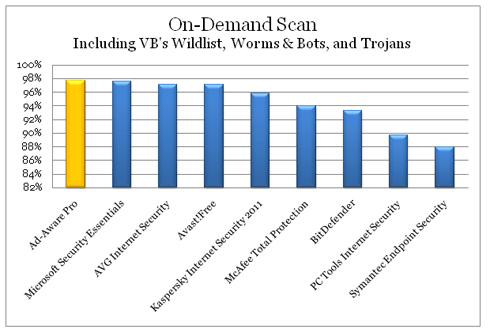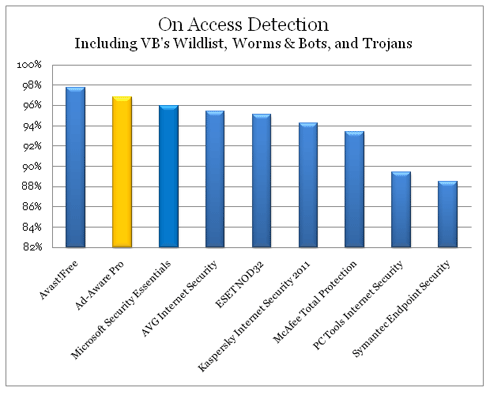 Every day, there is a flood of new malware emerging across the globe. Virus Bulletin's RAP testing measures a product's reactive and proactive detection abilities against these threats – and puts the product's heuristics and generic techniques to the test. Ad-Aware out-performed the vast majority of software tested. The results show that Ad-Aware Pro's RAP test scores place our software in the upper range among all the ranked anti-virus products, well above many of the top competitors.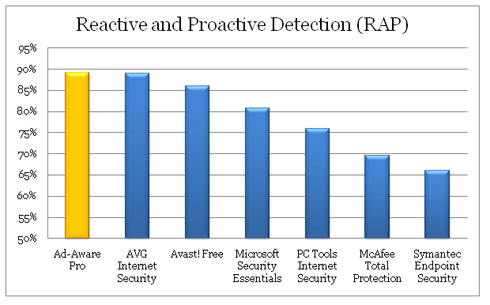 For full test details, please visit Virus Bulletin.
"[Ad-Aware Pro] Provides solid and reliable protection with great flexibility available to the user...combining leading detection technologies from the anti-spyware and traditional anti-virus worlds."

- Virus Bulletin
Go to Performance Challenges - Ad-Aware Total Security