Tools - Project Eco
- Lavasoft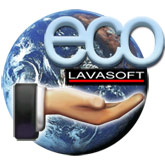 Whether you consider the Greek or Roman origins, the word 'Eco' means the same thing... home. It is a term that denotes where we live and the environment that surrounds us. Lavasoft is proud to present Project Eco as a testament to our strong and unwavering commitment to protecting your environment.
What does that have to do with computers, you ask? Today's society is interconnected with computers, at home and at the office, at work and at play. We rely on them for financial reasons, and we rely on them for entertainment. Computers are, and will continue to be, a part of our environment.
At Lavasoft, we are committed to social change. For us, it is not enough to simply provide you with anti-spyware that gives you a quick fix for your personal security. We continuously strive to find solutions for you; solutions through working with spyware creators to make their products less invasive for consumers, solutions through complex analysis of existing spyware and malware, and solutions through unique tools that we develop to enhance your personal privacy and security.
Project Eco is our series of reporting and analysis tools that allow you to explore your computer system in greater detail. We are committed to providing you with a safe computing environment, and we will develop powerful, easy-to-use tools that are designed to achieve that goal.